PLENARY SPEAKERS
Meet world leaders in research, industry and international fisheries policy at the World Fisheries Congress in Adelaide, Australia. As part of the dynamic, engaging and comprehensive program, plenary speakers will share their global perspectives under the overarching theme 'sharing our oceans and rivers – a vision for the world's fisheries'.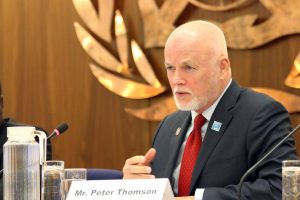 Ambassador Peter Thomson is the United Nations Secretary-General's Special Envoy for the Ocean, in which role he drives global support for UN Sustainable Development Goal 14, to conserve and sustainably use the ocean's resources. Ambassador Thomson will deliver the Opening Address at the WFC2021. Click here for more information.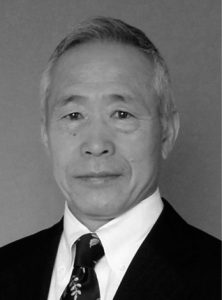 Professor Katsumi Tsukamoto, winner of the International Fisheries Science Prize and Professor at the University of Tokyo, is a world leader in the biology, ecology and conservation of freshwater eels. Katsumi's research will be presented by Professor Toyoji Kaneko, University of Tokyo, on his behalf. Professor Kaneko is an expert in fish osmoregulation, and is currently engaged in research on the application of osmoregulation to the fisheries industry, especially to land-based aquaculture of marine fish. Click here for more information.
Professor Manuel Barange, the Director of the Fisheries and Aquaculture Policy and Resources Division at the Food and Agriculture Organization in Rome, Italy, has expertise in physical/biological interactions, climate and anthropogenic impacts on marine ecosystems, fish ecology, behaviour and trophodynamics, and fisheries assessment and management. Click here for more information.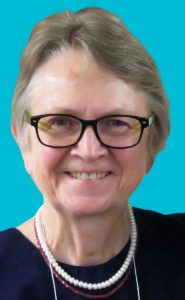 Ms Meryl Williams, has over 40 years' experience in fisheries, aquaculture, conservation and human development having been the Director General of WorldFish, Director of the Australian Institute of Marine Science and Executive Director of Rural Sciences (Australia). In recent years, Meryl has focused on trends in fish value chains, impacts on women and gender equality, and public knowledge for responsible fish production. Click for more information.
Dr Beth Fulton, Principal Research Scientist with CSIRO Oceans and Atmosphere, focuses on sustainably managing potentially competing uses of marine environments and adaptation to global change, including effective means of conserving and monitoring marine and coastal ecosystems. Click here for more information.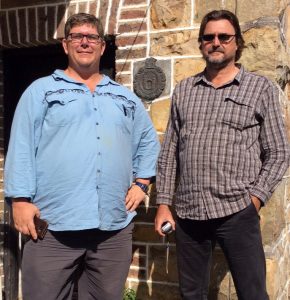 Professor Olaf Weyl was a Chair and Chief Scientist at the South African Institute for Aquatic Biodiversity (SAIAB). His research revolved around understanding human impacts on freshwater fish communities and included aspects of conservation, fisheries, and invasion biology. Nicholas Mandrak, a Professor and Director of a professional Master's program in Conservation and Biodiversity at the University of Toronto, will be presenting their joint research on behalf of Olaf. Nick's research is primarily on the biodiversity, biogeography, and conservation of freshwater fishes, with emphasis on Canada. Click here for more information.
Photo (Professor Olaf Weyl (left) and Nicholas Mandrak)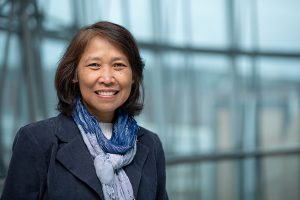 Professor Ratana Chuenpagdee, Memorial University of Newfoundland, St. John's, Canada, is leading a major global research partnership, 'Too Big To Ignore', which aims to elevate the profile of small-scale fisheries and rectify their marginalization in national and international policies. Click here for more information.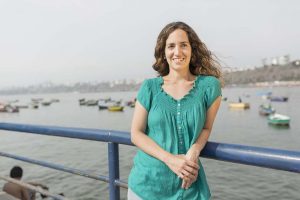 Ms Kerstin Forsberg, Founder and Director of Planeta Océano, a Peruvian non-profit organization empowering coastal communities in marine conservation through research, education, policy and sustainable development efforts. Her work includes research and legal protection for giant manta rays and critically endangered sawfish and the consolidation of a Marine Educator's Network in Peru. Click here for more information.
Photo (2016 Rolex Awards Enterprise, conservationist Kerstin Forsberg in the Chorrillos port, Lima, Peru.)
Mr Martin Exel, of Austral Fisheries, is also the Managing Director of SeaBOS, a collaborative venture between 10 of the world's largest seafood businesses, and the Stockholm Resilience Centre in Sweden, with an aim to transform wild capture and aquaculture fisheries to sustainable seafood production and promote a healthy ocean, globally. Click here for more information.
Mr Matthew Osborne is a Kaurna and Narungga man and has extensive experience in Indigenous fisheries. He is the Program Leader, Aquaculture and Regional Development in Northern Territory Fisheries overseeing a range of Aboriginal and industry development programs including supporting small scale fishing and aquaculture operations in remote Aboriginal communities. Click here for more information.